NEWS 2013

Updated/päivitetty: 10.04.2015
NEWS 2012 **NEWS 2011**2010 NEWS**2009 NEWS**2008 NEWS **2007 NEWS ** 2006 NEWS ** 2005 NEWS ** 2004 NEWS ** 2003 NEWS ** 2002 NEWS ** 2001 NEWS ** 2000 NEWS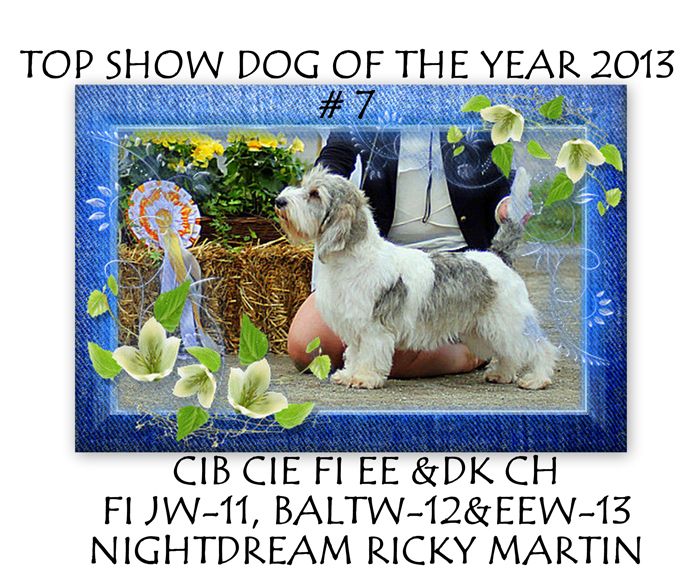 TOP PBGV 2013 by Finnish Basset Club
Males
1. CIE,CIB & NORDIC CH, FI, DK, EE, SE CH, FI JW-11, BALTW-12, EEW-13,
NORDIC W-13, HKIW-13, FIW-13 Nightdream Ricky Martin 99p
2. FI CH, FIJW-12, HKIJW-12 Nightdream Salvatore Ferragamo 37p
8. CIB & FI CH, EE CH, HKIW-11 Curd Graf Von Schwerin 20p

Bitches
2.CIB &FI CH & EE CH & DK CH & EEW-13 Nightdream Jennifer Lopez 45p
5. FI CH & EE CH & EEW-12 & BALTW-12 Nightdream Isidore Ducasse 26p
6. FI CH Nightdream Penelope Cruz 21p


Best Breeder
1. Nightdream Kennel 120p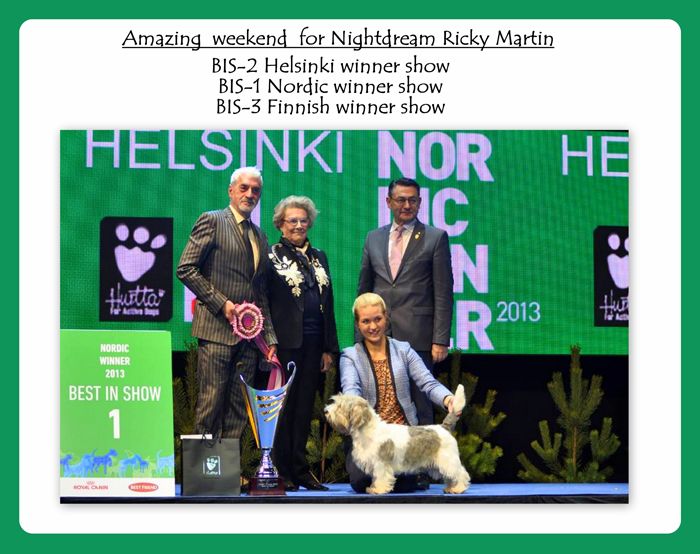 15.12.2013 HELSINKI, Finnish Winner show 2013
pbgv judge: Jose Homem De Mello, Portugali
group judge: Tino Pehar, Croatia
BIS-judge: Soile Bister, Finland
Nightdream Ricky Martin CH EXC 1, SA, BEST MALE, CACIB, FI WINNER-13, BOB =>GROUP WINNER => BIS-3 VAL ERI 1, SA, PARAS UROS, CACIB, FI VOITTAJA-13, ROP => RYHMÄ VOITTAJA => BIS-3
Curd Graf Von Schwerin VET EXC 2, CQ, BEST MALE 4 VET ERI 2, SA, PARAS UROS 4
Nightdream Isidore Ducasse CH EXC 2, CQ, BEST BITCH 3 VAL ERI 2,SA, PARAS NARTTU3
Nightdream Jennifer Lopez CH EXC - VAL ERI
Nightdream Penelope Cruz CH EXC - VAL ERI
NIGHTDREAM BREEDER CLASS HP 1, BOB-BREEDER - KASV 1 KP, ROP-KASVATTAJA
14.12.2013 HELSINKI, Nordic Winner Show 2013
pbgv judge: Paolucci Gerardo, Argentina
group judge: Harry Tast, Finland
BIS-judge: Carlos Fernandez Renau, Spain
Nightdream Ricky Martin CH EXC 1, CQ, BEST MALE, CACIB, NORDIC WINNER, BOB => GROUP WINNER => BIS VAL ERI 1, SA, PARAS UROS, CACIB, POHJOISMAIDEN VOITTAJA, ROP => RYHMÄ VOITTAJA => BIS NÄYTTELYN KAUNEIN KOIRA
Nightdream Isidore Ducasse CH EXC 2, CQ, BEST BITCH 3 – VAL ERI 2, A, PARAS NARTTU3
Nightdream Jennifer Lopez CH EXC VAL ERI
Nightdream Penelope Cruz CH VG – VAL EH
Nightdream Gabriella Ferri YOUTH VG – NUO EH
NIGHTDREAM BREEDER CLASS HP1, BOB-BREEDER – KASV KP1, ROP KASVATTAJA
13.12.2013 HELSINKI, Helsinki Winner show 2013
pbgv judge: Noreen Harris, Australia
group judge: Jose Homem De Mello, Portugal
BIS-judge: Rainer Vuorinen, Finland
Nightdream Ricky Martin CH EXC 1, CQ, BEST MALE, CACIB, HELSINKI WINNER, BOB => GROUP WINNER => BIS-2 VAL ERI 1, SA, PARAS UROS, CACIB,HELSINKI VOITTAJA, ROP => RYHMÄ VOITTAJA => BIS-2
Curd Graf Von Schwerin VET VG – VET EH
Nightdream Jennifer Lopez CH EXC2, CQ, BEST BITCH 3 - VAL ERI 2,SA,PARAS NARTTU 3
Nightdream Isidore Ducasse CH EXC3, CQ, BEST BITCH 4 –VAL ERI 3, SA, PARAS NARTTU 4
Nightdream Penelope Cruz CH VG – VAL EH
Nightdream Breeder Class HP1, BOB-BREEDER – KASV KP1, ROP KASVATTAJA
08.12.2013 TUKHOLMA, Swedish Winnewr show 2013
pbgv judge: Karl-Erik Johansson, Sweden
Nightdream Ricky Martin CH EXC 3, CQ, CAC => SWEDISH CH & NORDIC CHAMPION , Best male 3 - VAL ERI 3, SA, SERTTI => RUOTSIN MUOTOVALIO & POHJAISMAIDEN VALIO! PARAS UROS 3
Nightdream Jennifer Lopez CH EXC 3, CQ, BEST BITCH 4 – VAL ERI 3, SA, PARAS NARTTU 4
16.11.2013 JYVÄSKYLÄ, Int show
pbgv judge: Dan Eriksson, Sweden
group judge: Carlos Fernandez Renau, Spain
BIS-judge: Carla Molinari, Portugal
Nightdream Ricky Martin CH EXC 1, CQ, BEST MALE, CACIB, BOB => GROUP WINNER => BIS-2 - VAL ERI 1, SA, PARAS UROS, CACIB, ROP => RYHMÄ VOITTAJA => BIS-2
26.10.2013 LAHTI Int show
pbgv judge: Laura Cox Ireland
group judge: Lauta Cox
BIS-judge: Irina Poletaeva, Finland
Nightdream Ricky Martin CH EXC 1,CQ, BEST MALE, CACIB, BOB => GROUP WINNER => BIS-2 - VAL ERI 1, SA, PARAS UROS, CACIB, ROP => RYHMÄVOITTAJA => BIS-2
Nightdream Mario Del Monaco YOUTH VG – NUO EH
Nightdream Jennifer Lopez CH EXC 1, CQ, BEST BITCH, CACIB, BOS - VAL ERI 1, SA, PARAS NARTTU, CACIB, VSP
19.10.2013 SEINÄJOKI, Int show
pbgv judge:Jari Fors, Finland
group judge: Jari Fors, Finland
Nightdream Ricky Martin CH EXC 1, CQ, BEST MALE, CACIB, BOB => GROUP WINNER - VAL ERI 1, SA; PARAS UROS, ROP => RYHMÄ VOITTAJA
14.09.2013 PORVOO, All breed show
pbgv judge: Rune Fagerström, Finland
Nightdream Jennifer Lopez CH EXC 1, CQ, BEST BITCH, BOB – VAL ERI 1, SA, PARAS NARTTU, ROP
Nightdream Salvatore Ferragamo CH EXC 1, CQ, BEST MALE 2 – VAL ERI 1, SA, PARAS UROS 2
Nightdream Mario Del Monaco YOUTH EXC 1, CQ, CAC, BEST MALE, BOS -NUO ERI 1, SA, PARAS UROS, SERTTI, VSP
07.09.2013 VANTAA , All breed show
pbgv judge: Eva Jonsson, Sweden
group judge: Eva Jonsson, Sweden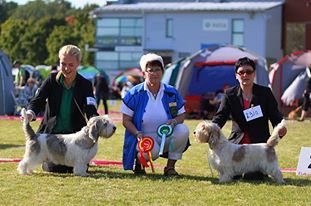 Nightdream Ricky Martin CH EXC 1, CQ, BEST MALE, BOB => GROUP WINNER – VAL ERI 1, SA, PARAS UROS, ROP => RYHMÄVOITTAJA
Nightdream Salvatore Ferragamo CH EXC 3, CQ, BEST MALE 3 – VAL ERI 3, SA, PARAS UROS 3
Curd Graf Von Schwerin VET EXC1 1, CQ, BEST MALE 4, BOB-VET – VET ERI 1, SA, PARAS UROS 4, ROP-VET
Nightdream Jennifer Lopez CH EXC 1, CQ, BEST BITCH, BOS – VAL ERI 1. SA, PARAS NARTTU, VSP
***
31.08.2013 MÄNTYHARJU, All Breed Show
pbgv judge: Harry Tast, Finland
group judge: Kirsi Nieminen, Finland
BIS judge: Harry Tast
Nightdream Ricky Martin

CH EXC 1, CQ, BEST MALE, BOB
=> GROUP WINNER
=>

BIS 2

-
VAL ERI 1, SA, PARAS UROS, ROP
=> RYHMÄ VOITTAJA => BIS 2

Photo: Sanna Tammi
18.08.2013 HEINOLA, All Breed Show
pbgv judge: Tapio Eerola, Finland
Nightdream Salvatore Ferragamo CH EXC 1, CQ, BEST MALE, BOB – VAL ERI 1, SA, PARAS UROS, ROP
Nightdream Mario Del Monaco YOUTH EXC 1, CQ, CAC, BEST MALE 2 – NUO ERI 1. SA. SERTTI, PARAS UROS 2
Nightdream Gabriella Ferri YOUTH EXC 1 – NUO ERI 1
18.08.2013 BORNHOLM, DENMARK, INT SHOW
pbgv judge: Gert Christersen, Denmark
Nightdream Ricky Martin CH EXC 2, CQ, BEST MALE 2, RESERV-CACIB – VAL ERI 2, SA, PARAS UROS 2, VARA-CACIB
Nightdream Jennifer Lopez CH EXC 1, CQ, BEST BITCH, CACIB, BOS - VAL ERI 1, SA, PARAS NARTTU, CACIB, VSP
17.08.2013 LITHUANIA, All Breed Show
pbgv&group judge: Horst Kliebenstein, Germany
Nightdream Brigitte Bardot CAC, BOB => GROUP WINNER – SERTTI, ROP => RYHMÄ VOITTAJA
17.08.2013 BORNHOLM, DENMARK, INT SHOW
pbgv judge: Agnes Ganami Kertes, Israel
group judge: Karl Erik Johansson, Sweden
Nightdream Ricky Martin CH EXC 1, CQ, CAC => DK CH, BEST MALE, CACIB, BOB => GROUP WINNER – VAL ERI 1, SA, SERTTI =>TANSKAN MUOTOVALIO, PARAS UROS, CACIB, ROP => RYHMÄVOITTAJA
Nightdream Jennifer Lopez CH EXC 1, CQ, CAC => DK CH, BEST BITCH, CACIB, BOS – VAL ERI 1, SA, SERTTI => TANSKAN MUOTOVALIO, PARAS NARTTU, CACIB, VSP

04.08.2013 TURKU, All Breed Show
pbgv judge: Harry Tast, Finland
group judge: Harry Tast
breeder group judge: Pedro Sanches, Portugal
BIS judge: Kresten Scheel, Denmark

Nightdream Ricky Martin CH EXC 1, CQ, BEST MALE, BOB => GROUP WINNER => BIS-3

-

VAL ERI 1, SA, PARAS UROS, ROP => RYHMÄVOITTAJA => BIS-3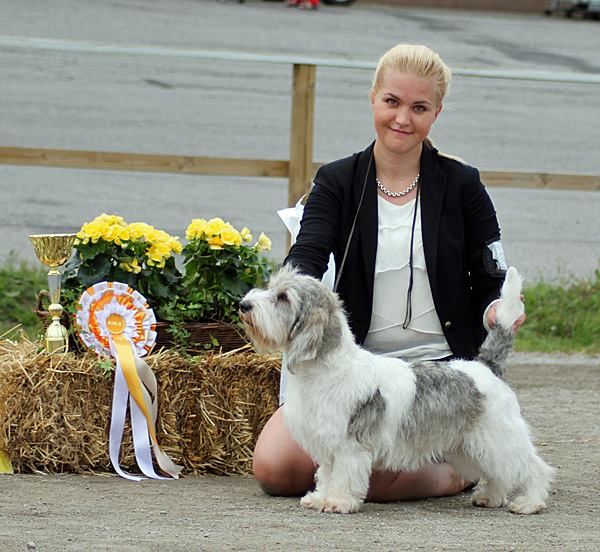 Nightdream Salvatore Ferragamo OPEN EXC 1, CQ, CAC => FI CH, BEST MALE2 AVO ERI 1, SA, SERTTI => FI MVA, PARAS UROS 2
Nightdream Jennifer Lopez CH EXC 1, CQ, BEST BITCH, BOS – VAL ERI 1, SA, PARAS NARTTU, VSP
Nightdream Penelope Cruz CH EXC 1, CQ, BEST BITCH 2 – VAL ERI 2, SA, PARASNARTTU2
Nightdream Gabriella Ferri YOUTH EXC 1, CQ, CAC, BEST BITCH 3 – NUO ERI 1, SA, SERTTI, PARAS NARTTU 3
NIGHTDREAM BREEDER GROUP HP 1 => BIS-3 BREEDER – KP 1 => BIS-3 KASVATTAJA
28.07.2013 PORI, INT SHOW
pbgv judge: Leila Kärkäs, Finland
group judge: Leila Kärkäs
BIS-vet judge: Sergio Pizzorno, Uruguay
CH Curd Graf Von Schwerin VET EXC 1, CQ, BEST MALE, BOS, BOB-VETERAN => BIS-VETERAN - VET ERI 1, SA, PARAS UROS, VSP, ROP-VET => BIS-VETERAANI
Nightdream Jennifer Lopez CH EXC 1, CQ, BEST BITCH, CACIB, BOB => GROUP-3 VAL ERI 1, SA, PARAS NARTTU, CACIB, ROP => RYHMÄ-3
Nightdream Penelope Cruz CH EXC 3, CQ, BEST BITCH 3 – VAL ERI 3, SA,PARAS NARTTU 3
26.07.2013 HELSINKI, INT SHOW Eukanuba Summer Show
pbgv judge Espen Engh, Norway
group judge: Hans V D Berg, Netherlands
BIS-judge: Tanya Ahlman-Stockmari, Finland
Nightdream Ricky Martin CH EXC 1, CQ, BEST MALE, CACIB, BOB => GROUP WINNER => BIS-4 VAL ERI 1, SA; PARAS UROS, CACIB, ROP => RYHMÄ VOITTAJA => BIS-4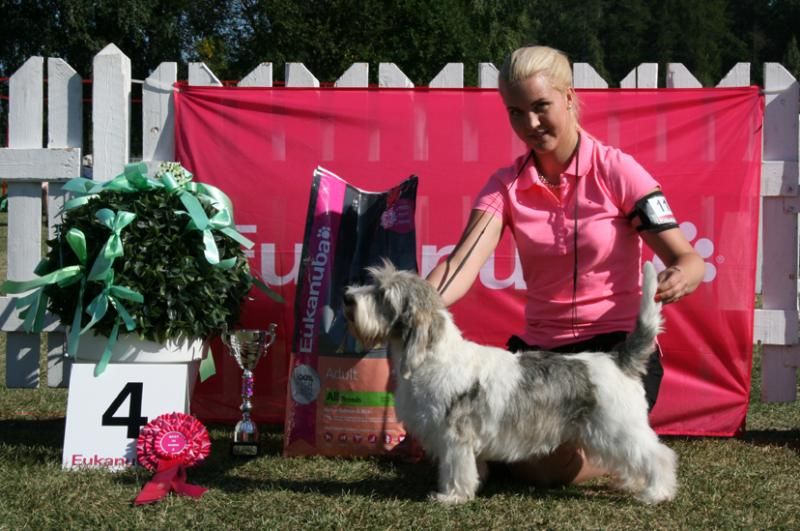 14.07.2013 VIIMSI, ESTONIA All Breed Show
pbgv&group judge: Gunnar Nyman, Denmark
BIS-judge: Paula Heikkinen-Lehkonen
Nightdream Ricky Martin CH EXC1, CQ, BEST MALE, BOB => GROUP WINNER => BIS - VAL ERI 1, SA, PARAS UROS, ROP => RYHMÄVOITTAJA => BIS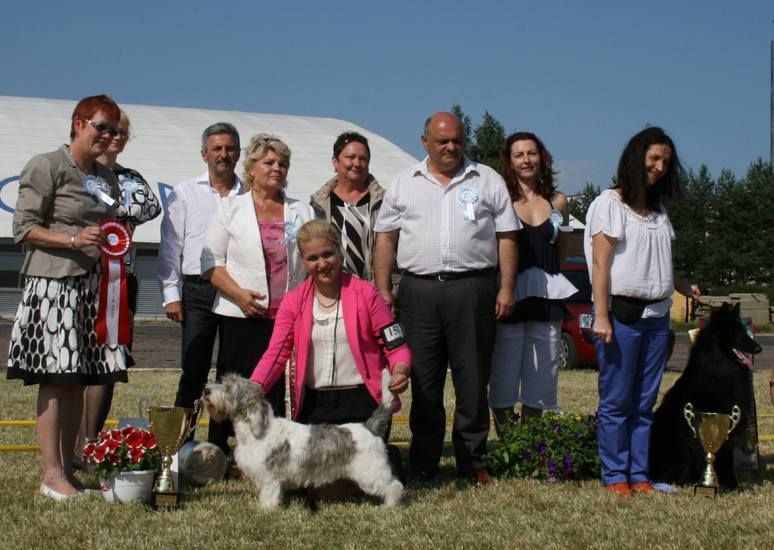 13.07.2013 VIIMSI, ESTONIA All Breed Show
pbgv&group judge: Paula Heikkinen-Lehkonen, Finland
BIS-judge: Gabriela Ridarcikova, Slovakia
Nightdream Ricky Martin CH EXC 1, CQ, BEST MALE, BOB => GROUP WINNER => BIS-3 - VAL ERI 1, SA, PARAS UROS, ROP => RYHMÄVOITTAJA =>BIS-3
13.07.2013 HYVINKÄÄ All Breed Show
pbgv judge: Leni Finne, Finland
Curd Graf Von Schwerin VET ERI 2, CQ, BEST MALE 2 - VET ERI 2, SA, PARAS UROS 2
Nightdream Jennifer Lopez CH EXC 1, CQ, BEST BITCH, BOS – VAL ERI 1, SA, PARAS NARTTU, VSP
06.07.2013 TAMMELA Finnish Retriever Association´s Main Show
golden judge: Bart Van Maren, Netherlands
Perfect Beast Dead Girls Are Easy OPEN EXC – AVO ERI
Nightdream Venus Williams JUN EXC 4 – JUN ERI 4
07.07.2013 KARJAA All Breed Show
pbgv judge: Sakari Poti, Finland
group judge: Sakari Poti
Nightdream Ricky Martin CH EXC 1, CQ, BEST MALE, BOB => GROUP-4 - VAL ERI 1, SA, PARAS UROS, ROP => RYHMÄ-4
Nightdream Cameron Diaz CH EXC 2, CQ, BEST BITCH 2 - VAL ERI 2, SA, PARAS NARTTU 2
Nightdream Penelope Cruz OPEN EXC 1, CQ, CAC => FI CH, BEST BITCH 3 – AVO ERI 1, SA, SERTTI => FI MVA, PARAS NARTTU 3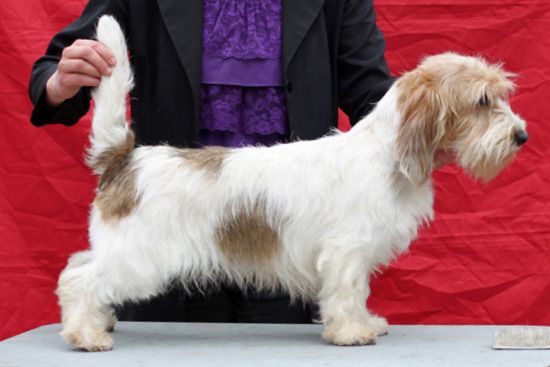 29.06.2013 HÄMEENLINNA All Breed Show
pbgv judge: Soile Bister, Finland
group judge: Jari Fors, Finland
Nightdream Ricky Martin CH EXC 1, CQ, BEST MALE, BOB => GROUP WINNER - VAL ERI 1, SA, PARAS UROS, ROP => RYHMÄVOITTAJA
30.06.2013 TUUSULA All Breed Show
pbgv judge: Stephen Wheeler, Sweden
group judge: Saija Juutilainen, Finland
BIS-judge: Sylvie Desserne, France
Nightdream Ricky Martin CH EXC1, CQ, BEST MALE, BOB => GROUP WINNER => BIS-4 - VAL ERI 1, SA, PARAS UROS, ROP => RYHMÄVOITTAJA => BIS-4
16.06.2013 KOTKA INT SHOW
pbgv judge: Laurent Pichard, Switzerland
Nightdream Ricky Martin CH EXC 1, CQ, BEST MALE, CACIB, BOS - VAL ERI 1, SA, PARAS UROS, CACIB, VSP
Nightdream Jennifer Lopez CH EXC 2, CQ, BEST BITCH 2, RESERV-CACIB - VAL ERI 2, SA, PARAS NARTTU 2, VARA-CACIB
Nightdream Cameron Diaz OPEN EXC 1, CQ, CAC => FI CH, BEST BITCH 3 - AVO ERI 1, SA, SERTTI => FI MVA, PARAS NARTTU 3
08.06.2013 TUURI All Breed Show
pbgv judge: Leni Finne, Finland
Nightdream Ricky Martin CH EXC 1, CQ, BEST MALE, BOS – VAL ERI 1, SA, PARAS UROS, VSP
09.06.2013 ORIVESI
pbgv & group judge: Riitta Lahtovaara, Finland
Nightdream Ricky Martin CH EXC 1, CQ, BEST MALE, BOB => GROUP-2 VAL ERI 1, SA, PARAS UROS, ROP => RYHMÄ-2
01.06.2013 ESTONIA, TALLINN Estonian Winner 2013
pbgv & group judge: Johan Becerra, Puerto Rico
Nightdream Ricky Martin CH EXC 1, CQ, CAC, BEST MALE, CACIB => ESTONIAN CHAMPION & ESTONIAN WINNER 2013, BOB, GROUP-3 – VAL ERI 1, SA, SERTTI, PARAS UROS, CACIB => VIRON MUOTOVALIO & VIRON VOITTAJA 2013, ROP => RYP-3
Nightdream Jennifer Lopez CH EXC 1, CQ, CAC, BEST BITCH, CACIB => ESTONIAN CHAMPION & ESTONIAN WINNER 2013, BOS -
VAL ERI 1, SA; SERTTI, PARAS NARTTU, CACIB => VIRON MUOTOVALIO & VIRON VOITTAJA 2013, VSP
21.05.2013 SWEDEN
Nightdream Gianna Nannini "Pernilla" New SWEDISH BLOOD TRACK CHAMPION – RUOTSIN JÄLJESTYSVALIO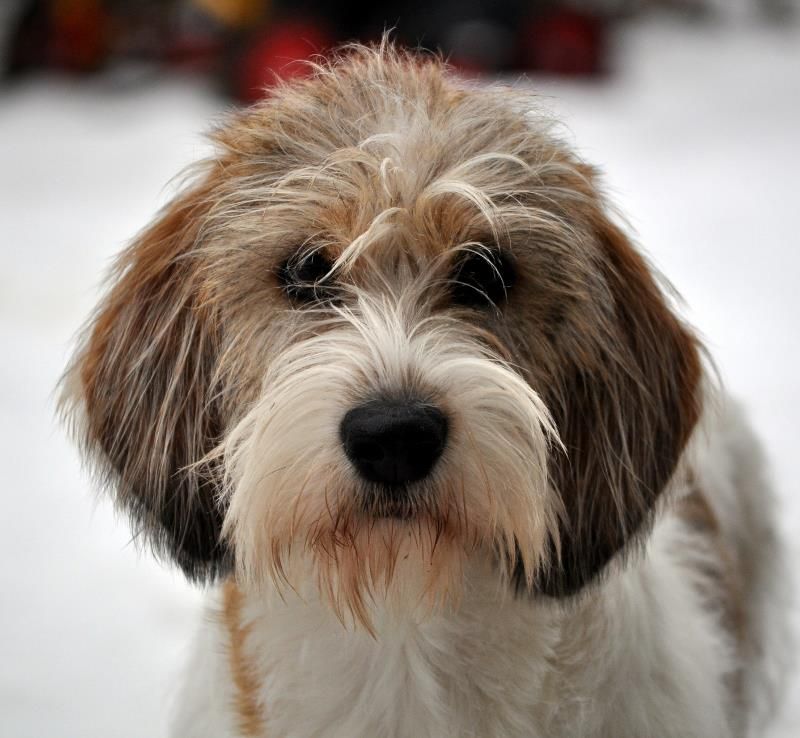 18.05.2013 JÄMSÄ All Breed Show
pbgv and group judge: Tuula Savolainen, Finland

Nightdream Ricky Martin CH EXC 1, CQ, BEST MALE, BOB => GROUP-2 VAL ERI 1, SA, PARAS UROS, ROP => RYHMÄ 2
19.05.2013 MYNÄMÄKI All Breed Show
pbgv judge: Esko Nummijärvi, Finland
Nightdream Salvatore Ferragamo YOUTH EXC 1, CQ, CAC, BEST MALE, BOB – NUO ERI 1, SA, SERTTI, PARAS UROS, ROP
Nightdream Penelope Cruz OPEN EXC 1 - AVO ERI 1
25.05.2013 RAUMA All Breed Show
pbgv judge: Otto Schimpf, Österreich
Nightdream Jennifer Lopez CH EXC 1, CQ, BEST BITCH, BOB – VAL ERI 1, SA, PARAS NARTTU, ROP
12.05.2013 HELSINKI INT SHOW Royal Canin Show
pbgv judge: Jean Westren, Ireland
group judge: Petr Rehanek, Tchekoslovakia
Nightdream Salvatore Ferragamo YOUTH EXC 1, CQ, CAC, BEST MALE, CACIB, BOS - NUO ERI 1, SA, SERTTI, PARAS UROS, CACIB, VSP
Nightdream Jennifer Lopez CH EXC 1, CQ, BEST BITCH, CACIB, BOB => GROUP-3 VAL ERI 1, SA, PARAS NARTTU, CACIB, ROP => RYHMÄ-3
Nightdream Penelope Cruz OPEN EXC 1, CQ, CAC, BEST BITCH 3 – AVO ERI 1, SA, SERTTI, PARAS NARTTU 3
11.05.2013 HAMINA INT SHOW
pbgv judge: Gunnar Nyman, Denmark
group judge: Gunnar Nyman
BIS-judge: Ricky Lochs-Romans, Netherlands
Nightdream Ricky Martin CH EXC 1, CQ, BEST MALE, CACIB, BOB => GROUP WINNER => BIS-4 VAL ERI 1, SA, PARAS UROS, CACIB, ROP => RYHMÄ VOITTAJA => BIS-4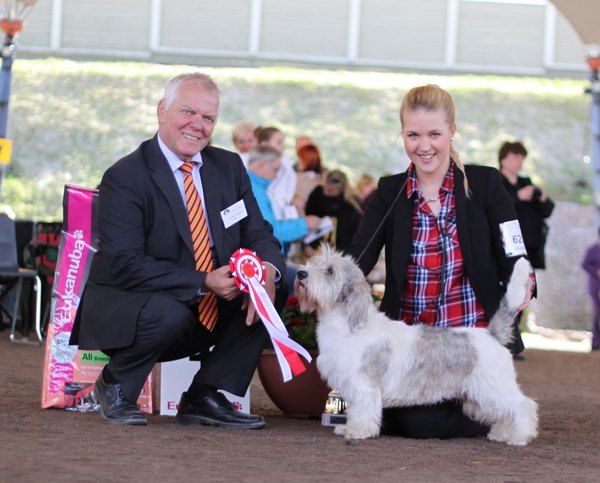 Nightdream Salvatore Ferragamo YOUTH EXC 1 – NUO ERI 1
Nightdream Penelope Cruz OPEN EXC 1, CQ, CAC, BEST BITCH, CACIB, BOS - AVO ERI 1, SA, SERTTI, PARAS NARTTU, CACIB, VSP
Nightdream Jennifer Lopez CH EXC 1, CQ, BEST BITCH 2, RESERV-CACIB - VAL ERI 1, SA, PARAS NARTTU 2, VARA-CACIB
Nightdream Breeders group HP1 -Nightdream Kasvattajaluokka KP 1
04.05.2013 TAMPERE INT SHOW
pbgv judge: Rodney McDowell, Ireland
Nightdream Ricky Martin CH EXC 1, CQ, BEST MALE, CACIB => NEW INTERNATIONAL CHAMPION OF BEAUTY AND INTERNATIONAL SHOW CHAMPION, BOB - VAL ERI 1, SA, PARAS UROS, CACIB => UUSI KANSAINVÄLINEN MUOTOVALIO JA KANSAINVÄLINEN NÄYTTELYVALIO, ROP
Nightdream Salvatore Ferragamo YOUTH EXC 1, CQ, CAC, BEST MALE 3 – NUO ERI 1, SA, SERTTI, PARAS UROS 3
Nightdream Jennifer Lopez CH EXC 1, CQ, BEST BITCH; CACIB, BOS - VAL ERI 1, SA, PARAS NARTTU, CACIB, VSP
27.04.2013 LAHTI INT SHOW
pbgv judge: Anders Tunold- Hansen, Norway
Nightdream Ricky Martin CH EXC 2, CQ, BEST MALE 2, RESERV-CACIB - VAL ERI 2, SA, PARAS UROS 2, VARA-CACIB
Nightdream Salvatore Ferragamo YOUTH EXC 1 - NUO ERI 1
Nightdream Jennifer Lopez CH EXC 1, CQ, BEST BITCH, CACIB, BOS - VAL ERI 1, SA, PARAS NARTTU, CACIB, VSP
14.04.2013 VAASA INT SHOW
pbgv judge: Pekka Teini, Finland
Nightdream Salvatore Ferragamo YOUTH EXC 1, CQ, CAC, BEST MALE, CACIB, BOB - NUO ERI 1, SA, SERTTI, PARAS UROS, CACIB, ROP
Nightdream Jennifer Lopez CH EXC 1, CQ, BEST BITCH, CACIB, BOS - VAL ERI 1, SA, PARAS NARTTU, CACIB, VSP
01.04.2013 LAPPEENRANTA, All Breed Show
pbgv judge: Gorge Schogol, Georgia
group judge: Tuula Savolainen
Nightdream Ricky Martin CH EXC 1, CQ, BEST MALE, BOB => GROUP-3 - VAL ERI 1, SA, PARAS UROS, ROP => RYHMÄ-3
Nightdream Jennifer Lopez CH EXC 1, CQ, BEST BITCH, BOS - VAL ERI 1, SA, PARAS NARTTU, VSP
30.03.2013 LATVIA, RIGA Latvian Winner 2013
pbgv judge: Valentina Ivanishcheva, Russia
Nightdream Ricky Martin CH EXC 2, CQ, BEST MALE 2, RESERV-CACIB - VAL ERI 2, SA, PARAS UROS 2, VARA-CACIB
Nightdream Jennifer Lopez CH EXC 2, CQ, BEST BITCH 2, RESERV-CACIB – VAL ERI 2, SA, PARAS NARTTU 2, VARA-CACIB
02.03.2013 LITHUANIA Vilnius Cup
pbgv judge: Sean Delmar, Ireland
Curd Graf Von Schwerin CH EXC 2, CQ, BEST MALE 2, RESERV-CACIB => CACIB => INTERNATIONAL SHOW CHAMPION - VAL ERI 2, SA, PARAS UROS 2, VARA-CACIB => CACIB => KANSAINVÄLINEN NÄYTTELYVALIO
Nightdream Jennifer Lopez CH EXC 1, CQ, BEST BITCH 2, RESERV-CACIB – VAL ERI 2, SA, PARAS NARTTU 2, VARA-CACIB
03.03.2013 LITHUANIA Lithuanian Winner 2013
pbgv judge: Zeljko Zilnik, Croatia
Curd Graf Von Schwerin CH EXC 2, CQ, BEST MALE 2, RESERV-CACIB => CACIB => - VAL ERI 2, SA, PARAS UROS 2, VARA CACIB => CACIB
Nightdream Jennifer Lopez CH EXC 2, CQ, BEST BITCH 2, RESERV-CACIB - VAL ERI 2, SA, PARAS NARTTU 2, VARA-CACIB
****
20.01.2013 TURKU INT SHOW
pbgv judge: Tiina Illukka, Finland



Nightdream Salvatore Ferragamo JUN EXC 1, CQ, CAC, BEST MALE – JUN ERI 1, SA, SERTTI, PARAS UROS
Nightdream Jennifer Lopez CH EXC 1, CQ, BEST BITCH, CACIB, BOB – VAL ERI 1, SA, PARAS NARTTU, CACIB, ROP


Pörrö - bob

13.01.2013

NEW ESTONIAN CHAMPIONS
Curd Graf Von Schwerin
Mirepoix´s Sid Vicious
Mirepoix´s La Fraie Affaire
Nightdream Isidore Ducasse
Nightdream Rhyme De Moines

NEW ESTONIAN VETERAN CHAMPION
Nightdream Rhyme De Moines



07.01.2013 SWEDEN, TJÄRNÖ, HUNTING TEST
judge: Sten-Axel Wikenstedt




"Devil in the country, angel in the house, that's our basset. " - breed standard

No hunting merits in pedigree for 20 years but still hunter!

Year 2013 began with so wonderful news from Sweden. Ricky Martin did get possibility to stay for some time with Therese and Staffan in Sweden for hunting after the Int Show in Stockholm. After some training in the forest, he had his first official huntingtest 07.01.2013 and he did fill all our hopes winning THE BEST POSSIBLE PRIZE 1! We all are so happy, proud and greatful of this possibility. Thank You Therese and Staffan in kennel Ebouriffe taking so excellent care of Ricky! This "hountinglife" with you in safe forests must have been "heaven" for Ricky!
Vuosi 2013 alkoi aivan ihanilla uutisilla Ruotsista. Ricky Martin sai mahdollisuuden jäädä Tukholman Kansainvälisen näyttelyn jälkeen ajoharjoituksiin Thereselle ja Staffanille. Seitsemän harjoitusstartin jälkeen Rickyn ensimmäinen virallinen ajokoe oli 07.01.2013 ja Ricky palkittiin parhaalla mahdollisella ajotuloksella 1-palkinnolla! Me kaikki olemme niin onnellisia, ylpeitä ja kiitollisia tästä meille tärkeästä mahdollisuudesta saavuttaa käyttötulos näyttelyissäkin hienosti pärjänneelle ihanalle pojalle! Tuhannet kiitokset Therese ja Staffan, Kennel Ebouriffe, kaikesta harjoittamisesta ja hyvästä hoidosta. Ricky on varmaankin "ollut taivaassa" turvallisissa metsissä saadessaan tehdä työtä, mihin tämä rotu on jalostettu!