NEWS 2014

Updated/päivitetty: 03.08.2015
NEWS 2014** NEWS 2013 ** NEWS 2012 **NEWS 2011**2010 NEWS**2009 NEWS**2008 NEWS **2007 NEWS ** 2006 NEWS ** 2005 NEWS ** 2004 NEWS ** 2003 NEWS ** 2002 NEWS ** 2001 NEWS ** 2000 NEWS

TOP PBGV`S 2014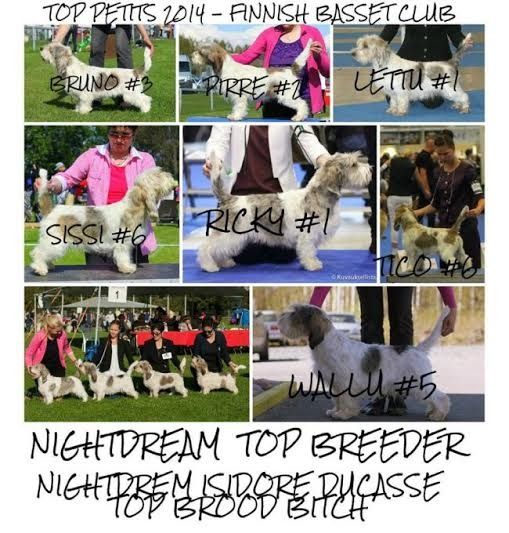 Males and TOP PBGV
<![if !supportLists]> 1. <![endif]> CIB&CIE&NORDIC CH&FI&DK&SE&EE CH&FIJV-11&BALTW-12&EEW-13&HEW-13&NORDIGW-13&FIW-13&HEW-14 Nightdream Ricky Martin
<![if !supportLists]> 2. <![endif]> FI CH Nightdream Bruno Banani
<![if !supportLists]> 5. <![endif]> FI CH Nightdream Mario Del Monaco
<![if !supportLists]> 6. <![endif]> EE JCH&HEJW-14&FIJW-14 Nightdream Tico Torres
Bitches
<![if !supportLists]> 1. <![endif]> CIE&FI&EE CH&EEW-12&BALTW-12&HEW-12&HEVW-14&FIVW-14 Nightdream Isidore Ducasse
<![if !supportLists]> 2. <![endif]> FI CH&HEJW-12&FIJW-12&HEW-14&FIW-14 Nightdream Gabriella Ferri
6. FI CH Nightdream Evita Peron
TOP Breeder
Nightdream
TOP PROGENY
Nightdream Isidore Ducasse
13.12.2014 AMSTERDAM, EUKANUBA WORLD CHALLENGE 2014
Nightdream Ricky Martin representing Finland! Ricky was first Finnish dog ever, who has got ticket to Finals (TOP 12)
Photo:

Andrzey Stepinski

07.12.2014 HELSINKI

On Sunday after breed judging Finnish Basset Club awarded TEAM-RICKY , DOG OF THE YEAR 2014 IN FINLAND
In the semifinals in Helsinki Winners shows program
FINNISH KENNEL CLUB AWARDED NIGHTDREAM RICKY MARTIN – MOST WINNING SHOW DOG IN FINLAND 2014
07.12.2014 HELSINKI, Winner Show 2014
pbgv judge: Attila Czegledi, Hungary
Nightdream Ricky Martin CH EXC 2, CQ, R-CACIB, BEST MALE 2 – VAL ERI 2, SA, VARA-CACIB, PARAS UROS 2
Nightdream Tico Torres JUN EXC 1 => FI JW-14 – JUN ERI 1 => FI JV-14
Nightdream Bruno Banani YOUTH EXC 2 – NUO ERI 2
Curd Graf Von Schwerin VET EXC 1 => FI VW-14, BOS VET – VET ERI 1 => FI VW-14, VSP VET
NightdreamGabriella Ferri CH EXC 1, CQ, CACIB, BEST BITCH, BOS => FI W-14 – VAL ERI !, SA, CACIB, PARAS NARTTU, VSP => FI V-14
Nightdream Isidore Ducasse VET EXC 1, CQ, BEST BITCH 3 => FI VV-14 BOB VET – VET ERI 1, SA, PARAS NARTTU 3 => FI VV-14, ROP VET
Nightdream breeder HP 1, BOB BREEDER- Nightdream kasvattajaluokka KP 1- ROP KASVATTAJA
06.12.2014 HELSINKI, Helsinki Winner Show 2014
pbgv judge: Taina Nygård, Finland
group judge: Irina Poletaeva, Finland
Nightdream Ricky Martin CH EXC 1, CQ, CACIB, BEST MALE, BOB => HeW-14 =>GROUP-2 -VAL ERI 1,SA, CACIB, PARAS UROS, ROP=> HeV-14=> RYHMÄ-2
Nightdream Tico Torres JUN EXC 1 => HeJW-14 – JUN ERI 1 => HeJV-14
Nightdream Bruno Banani YOUTH EXC 2– JUN EXC 2
Curd Graf Von Schwerin VET EXC 2, CQ, BEST MALE 4 – VET ERI 2, SA, PARAS UROS 4
Nightdream Gabriella Ferri CH EXC 1, CQ, CACIB, BEST BITCH, BOS => HeW-14-VAL ERI 1, SA, CACIB, PARAS NARTTU, VSP => HeV-14
Nightdream Isidore Ducasse VET EXC 1, CQ, BEST BITCH 2, BOS VET =>HeVW-14 – VET ERI 1, SA, PARAS NARTTU 2, VSP VET => HeVW-14
Nightdream breeder HP 1, BOB BREEDER – NIGHTDREAM KASVATTAJALUOKKA KP 1- ROP KASVATTAJA
08.11.2014 JYVÄSKYLÄ, INT SHOW
pbgv judge: Zafra Sirik, Israel
group judge: Annukka Paloheimo, Finland
BIS judge: Giuseppe Alessandra, Italy
Nightdream Ricky Martin CH EXC 1, CQ, CACIB, BEST MALE, BOB => GROUP WINNER => BIS-4 – VAL ERI 1, SA, CACIB, PARAS UROS, ROP => RYHMÄVOITTAJA => BIS-4
02.11.2014 SWEDEN
pbgv judge: Ewa Nielsen, Sweden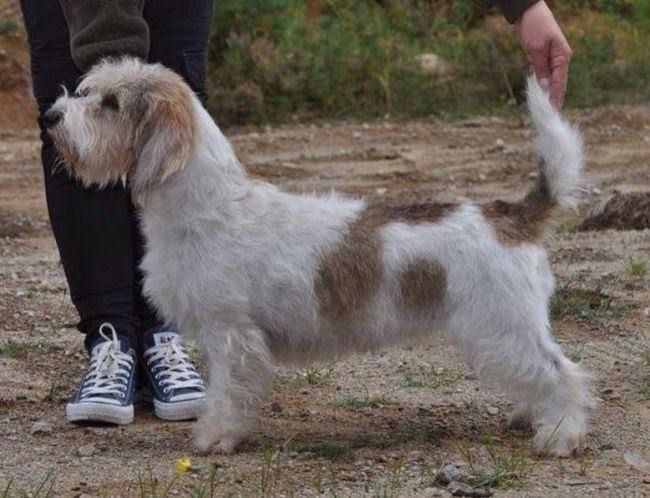 Photo: Annicka Löfgren
Nightdream Gianna Nannini "Pernilla" OPEN EXC1, CQ, CAC, CACIB, BOS – AVO ERI 1, SA, SERTTI, CACIB, VSP NEW SWEDISH&DANISH CH&KBHW-14&SE VCH

Photo/Kuva: Heidi Örling/Pasada, Thank You!
Breeders dream came true, after 23 years of passion and hard work for the breed I love!
My sincerely thanks to all who have helped with breeding. In the beginning Gunnar Nymann & Holger Busk and Chouan Gimlet. Lately Heidi Winkelman for letting me have Curd Graf von Schwerin and my dear friend Jan Zigich for loaning Mirepoix´s Sid Vicious to Finland. Both winners in showring and most of all wonderful studdogs, they did superb work with Nightdream bitch line.
I watched Ricky grow and mature. When he was 18 months old, I was confident he could be a winner. I had promised Kristina a great dog and was confident Ricky was a perfect choice. He had developed into a lovely PBGV - exhibiting excellent type, character and a winning attitude...things I look for in my show dogs.
I have been honored to own/breed many succesful dogs during the years, all those dogs are now behind of Ricky, he is recognized by breed specialist and allrounders and Ricky´s happy temperament has charmed hearts of the public and he loves the attention they get with his talented owner/handler.
My dearest thanks to my lovely daughter Sirpa, who has been always supporting and handling successfully my dogs during these 25 years I have been owning pbgvs!
*****
25.10.2014 SEINÄJOKI, All breed show
pbgv & group judge: Markku Kipinä, Finland
Nightdream Ricky Martin CH EXC 1, CQ, BEST MALE, BOB => GROUPWINNER - VAL ERI 1, SA, PARAS UROS, ROP => RYHMÄVOITTAJA
21.09.2014 DENMARK, COPENHAGEN, Copenhagen Winner Show
Nightdream Gianna Nannini OPEN EXC 1, CQ, CAC, BEST BITCH, CACIB, BOS =>COPENHAGEN WINNER - AVO ERI 1, SA, SERTTI, PARAS NARTTU; CACIB, VSP => KÖÖPENHAMINAN VOITTAJA
21.09.2014 HYVINKÄÄ, Group show
golden retriever judge: Monica Andersson, Sweden
pbgv judge: Esko Nummijärvi, Finland
Perfect Beast You Must Love Me OPEN VG – AVO EH
Nighdream Viola De Lesseps OPEN EXC 2 - AVO ERI 2
16.09.2014 PORVOO, All breed show
pbgv judge: Tuire Okkola, Finland
group judge:Tuire Okkola
BIS-judge: Saija Juutilainen, Finland
Nightdream Ricky Martin CH EXC 1, CQ, BEST MALE, BOB, GROUP WINNER => BIS VAL ERI1, SA, PARAS UROS, ROP, RYHMÄVOITTAJA => BIS
06.09.2014 ESTONIA, TALLINN All breed show
pbgv & group judge: Rudi Hubenthal, Norway
Nightdream Tico Torres JUN EXC 1, CQ , CAC => ESTONIAN JUNIOR CH, BOB-JUNIOR, BOB, BIS-4 JUNIOR, GROUP WINNER – JUN ERI 1, SA, SERT, => EESTIN JUNIORI VALIO, ROP-JUNIORI, ROP, BIS-4 JUNIORI, RYHMÄVOITTAJA

Kuva: Jari Kunnari
06.09.2014 SWEDEN, Svenska Bassetklubbens special show
Nightdream Dolores Jane Pimento HOUNTING CLASS EXC 2, CQ, CAC, BEST BITCH 3 – KÄYTTÖLUOKKA ERI 2, SA, SERTTI, PARAS NARTTU 3
06.09.2014 HELSINKI, ALL breed MASTERY SHOW
pbgv & group judge: Harri Lehkonen, Finland
BIS-judge: Kari Järvinen, Finland
BIS-breeder judge: Christian Jouanchicot, France
Nightdream Ricky Martin CH EXC 1, CQ, BEST MALE, BOB =>GROUP WINNER => BIS-3 – VAL ERI 1, SA, PARAS UROS, ROP =>RYHMÄVOITTAJA => BIS-3
Nightdream Mario Del Monace CH EXC 2, CQ, BEST MALE 2 – VAL ERI 2, SA, PARAS UROS 2
Nightdream Bruno Banani JUN ERI 1, CQ, CAC, BEST MALE 3 – JUN ERI 1, SA, SERT, PARAS UROS 3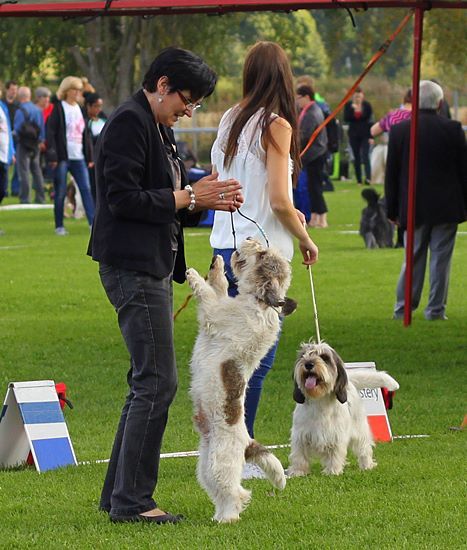 Nightdreasm Gabriella Ferri CH EXC 1, CQ, BEST BITCH, BOS – VAL ERI 1, SA, PARAS NARTTU, VSP
Nightdream Breeders group HP 1, BIS-2 breeder – kasvattajaluokka KP 1, BIS-2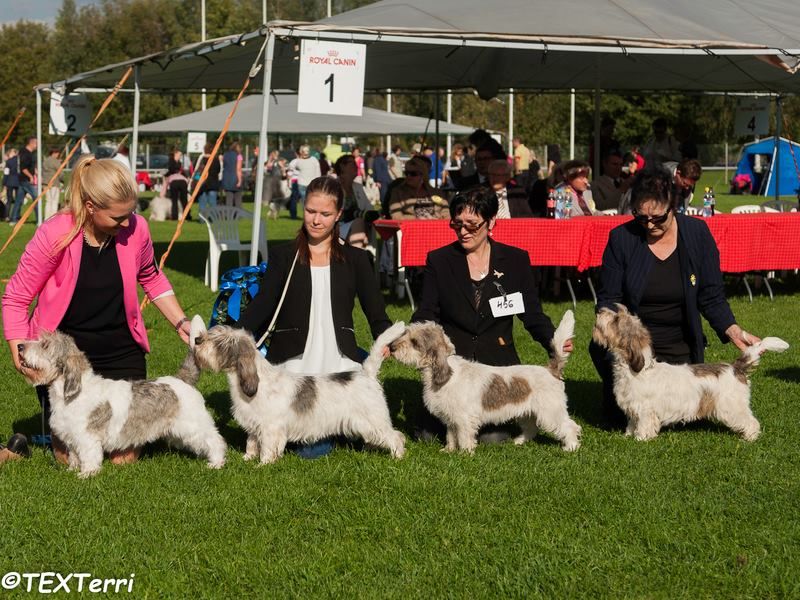 31.08.2014 TERVAKOSKI, All breed show
pbgv judge: Arvid Göransson, Sweden
Nightdream Ricky Martin CH EXC 1, CQ, BEST MALE, BOB – VAL ERI 1, SA, PARAS UROS, ROP
24.08.2014 SWEDEN Svenska Bassetklubbens special show
pbgv judge: Bjarne Sörensen, Denmark
Nightdream Gianna Nannini hounting class EXC 1, CQ, CAC, BEST BITCH 2 => BIS-2 HOUNTING DOG - KÄYTTÖLUOKKA ERI 1, SA, SERTTI, PARAS NARTTU 2 => BIS-2 KÄYTTÖKOIRA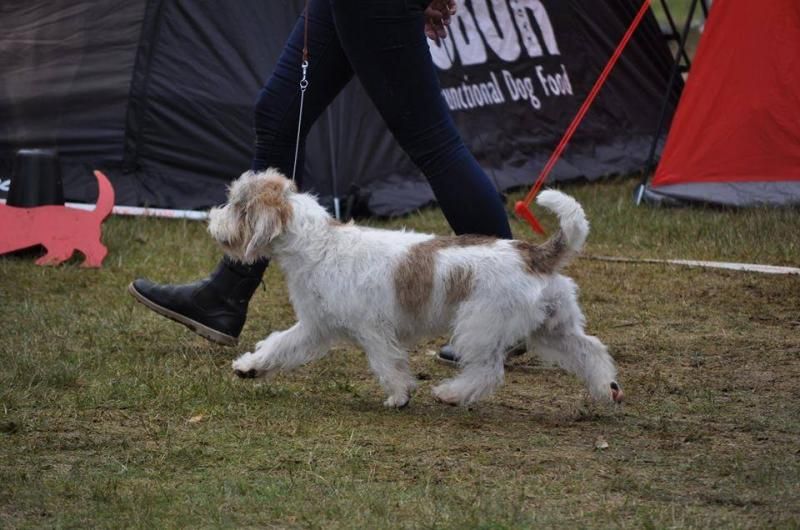 24.08.2014 HEINOLA, All breed show
pbgv judge: Jari Forss, Finland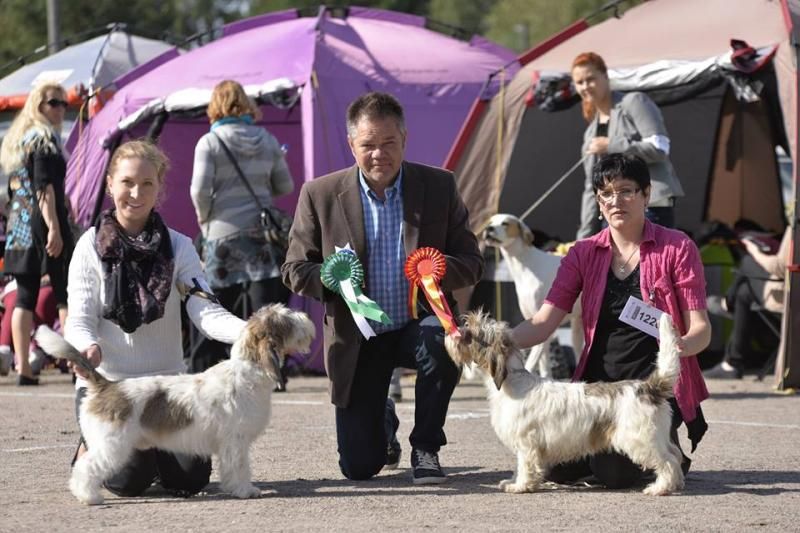 Kuva: Jari Kunnari
Nightdream Tico Torres JUN EXC 1, CQ, CAC, BEST MALE, BOS – JUN ERI 1, SA, SERTTI, PARAS UROS, VSP
Nightdream Bruno Banani JUN EXC 2, CQ, R-CAC, BEST MALE 2 – JUN ERI 2, SA, VARA-SERTTI, PARAS UROS 2
Nightdream Gabriella Ferri CH EXC 1, CQ, BEST BITCH, BOB – VAL ERI 1, SA, PARAS NARTTU, ROP
Nightdream Akessandra Sublet OPEN VG – AVO EH
Nightdream Breeder class HP 1 – kasvattajaluokka KP 1
16.08.2014 RAISIO, All breed show
pbgv judge: Massimiliano Mannucci, Italy
Nightdream Bruno Banani JUN EXC 1, CQ, CAC, Best male 2 – JUN ERI 1, SA, SERTTI, PARAS UROS 2
Nightdream Gabriella Ferri CH EXC 1, CQ, BEST BITCH, BOS - VAL ERI 1, SA, PARAS NARTTU, VSP
16.08.2014 VALKEAKOSKI, All breed show
pbgv judge: Ligita Zake, Latvia
Nightdream Tico Torres JUN EXC 1, CQ, CAC, BEST MALE, BOB – JUN ERI 1, SA, SERTTI, PARAS UROS, ROP
10.08.2014 HELSINKI, WORLD WINNER SHOW
pbgv judge: Bo Skalin, Sweden
Nightdream Ricky Martin CH EXC 3 – VAL ERI 3
Nightdream Bruno Banani JUN EXC 4 – JUN ERI 4
Nightdream Tico Torres JUN EXC – JUN ERI
Nightdream Breeder Class HP 2 – KASVATTAJALUOKKA KP 2
03.08.2014 KUOPIO, INT All breed show
pbgv judge: Dick Rutten, Netherlands
group judge: Petru Muntean, Romania
Nightdream Ricky Martin CH EXC 1, CQ, CACIB, BEST MALE, BOB =>GROUP WINNER - VAL ERI 1, SA, CACIB, PARAS UROS, ROP => RYHMÄVOITTAJA
02.08.2014 KUOPIO, INT All breed show
pbgv judge: Sakari Poti, Finland
group judge: Pedro Sanches Delerue, Portugal
BIS-judge: Paula Heikkinen-Lehkonen, Finland
Nightdream Ricky Martin CH EXC 1, CQ, CACIB, BEST MALE, BOB => GROUP WINNER=> BIS-2 - VAL ERI 1, SA, CACIB, PARAS UROS, ROP => RYHMÄVOITTAJA =>BIS-2
Nightdream Tico Torres JUN EXC 1, CQ, CAC, BEST MALE 2 _ JUN ERI 1, SA, SERTTI, PARAS UROS 2
Nightdream Lorenzo Di Giacomo OPEN EXC 1, CQ, R-CAC, BEST MALE 4 – AVO ERI 1, SA, VARA-SERTTI, PARAS UROS 4
01.08.2014 KUOPIO, INT All breed show
pbgv & group judge: Harri Lehkonen
Nightdream Ricky Martin CH EXC 1,CQ, BEST MALE, ACIB, BOB => GROUP-3 . VAL ERI 1, SA, PARAS UROS, CACIB, ROP => RYHMÄ-3
26.07.2014 HELSINKI All breed show
pbgv judge: Erja Nummi, Finland
Nightdream Ricky Martin CH EXC 1, CQ, BEST MALE, BOB – VAL ERI 1, SA, PARAS UROS, ROP
Nightdream Tico Torres JUN EXC 1 – JUN ERI 1
19.07.2014 MÄNTSÄLÄ, All breed show
pbgv judge: Tapio Eerola, Finland
Nightdream Tico Torres JUN EXC 1 - JUN ERI 1
13.07.2014 OULU, INT All breed show
pbgv judge: Marjatta Pylvänäinen- Suorsa, Finland
group judge: Saija Juutilainen, Finland
BIS-judge: Harry Tast, Finland
Nightdream Ricky Martin CH EXC 1, CQ, BEST MALE, CACIB, BOB => GROUP WINNER => BIS VAL ERI 1, SA, PARAS UROS, CACIB, ROP => RYHMÄVOITTAJA => BIS
12.07.2014 KOKKOLA, INT All breed show
pbgv judge: Panos Demetriou, Greece
group judge: Liliane De Ridder Onghena, Belgium
Nightdream Ricky Martin CH EXC 1, CQ, BEST MALE, CACIB, BOB => GROUP WINNER - VAL ERI 1, SA, PARAS UROS, CACIB, ROP => RYHMÄVOITTAJA
Nightdream Tico Torres JUN EXC 1, CQ, R-CAC, BEST MALE 3 – JUN ERI 1, SA, VARA-SERTTI, PARAS UROS 3
06.07.2014 KARJAA, All Breed Show
pbgv judge: Malgorzata Wieremiejczyk-Wierzchowskau
group judge: Wim Wellens, Netherlands
Nightdream Bruno Banani JUN EXC 1, CQ, CAC, BEST MALE, BOB=> GROUP WINNER – JUN ERI 1, SA, SERTTI, PARAS UROS, ROP => RYHMÄVOITTAJA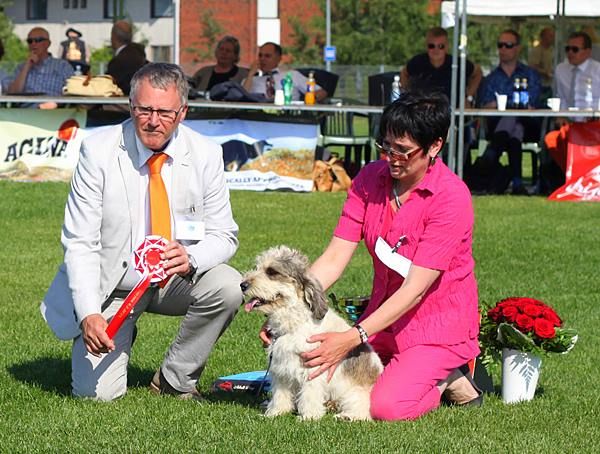 Nightdream Mario Del Monaco CH EXC 1, CQ, BEST MALE 2, - VAL ERI 1, SA, PARAS UROS 2
Nightdream Evita Peron JUN EXC 1 -JUN ERI 1
29.06.2014 FORSSA, All Breed Show
pbgv & group judge: Tino Pehar, Croatia
Nightdream Ricky Martin CH EXC 1, CQ, BEST MALE, BOB => GROUP WINNER - VAL ERI 1, SA, PARAS UROS, ROP => RYHMÄVOITTAJA
Nightdream Bruno Banani JUN EXC 1, CQ, CAC, BEST MALE 2 – JUN ERI 1, SA, SERTTI, PARAS UROS 2
Nightdream Mario Del Monaco CH EXC 2, CQ, BEST MALE 3 – VAL ERI 2, SA, PARAS UROS 3
Nightdream Evita Peron JUN EXC 1, CQ, CAC, BEST BITCH, BOS – JUN ERI 1, SA, SERTTI, PARAS NARTTU, VSP
Nightdream Breeder Class HP 1 – KASVATTAJALUOKKA KP 1
28.06.2014 PORI, INT All breed show
pbgv judge: Dubravka Reicher, Croatia
Nightdream Bruno Banani JUN EXC 1, CQ, CAC, BEST MALE, BOB - JUN ERI 1, SA, SERTTI, PARAS UROS, ROP
Nightdream Evita Peron JUN EXC 1, CQ, CAC, BEST BITCH, BOS – JUN ERI 1, SA, SERTTI, PARAS NARTTU, VSP
22.06.2014 ESTONIA, Tallinn, All breed show
pbgv judge: Valentina Ivanishecheva, Russia
Nightdream Tico Torres JUN EXC 1, CQ, CAC, BOB-JUN- BOB – JUN ERI 1, SA, SERTTI, ROP-JUN, ROP
21.06.2014 ESTONIA, Tallin, All breed show
pbgv judge: Siret Lepasaar, Estonia
Nightdream Tico Torres JUN EXC 1, CQ, CAC, BOB-JUN – BOB – JUN ERI 1, SA, SERTTI, ROP-JUN, ROP
14.06.2014 PÖYTYÄ, All breed show
golden judge: Soile Bister, Finland
Perfect Beast Pearly Bubbles VET EXC 1, BOS-VET – VET ERI 1, VSP-VET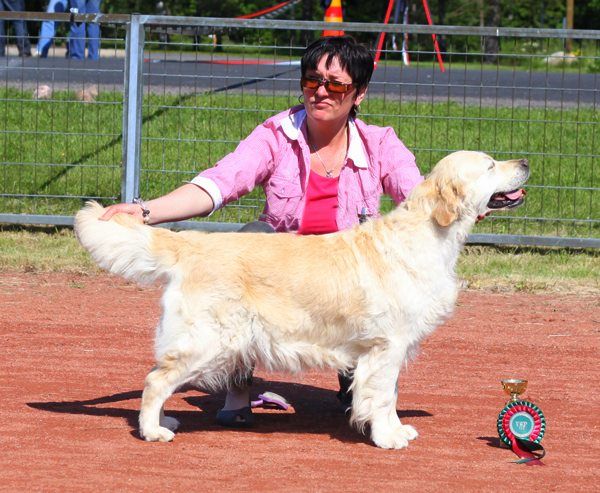 14.06.2014 KOTKA, INT All breed show
pbgv&group judge: Tino Pehar, Croatia
Nightdream Ricky Martin CH EXC 1, Q, BEST MALE,CACIB, BOB => GROUP-2 - CH ERI 1, SA, PARAS UROS, CACIB, ROP => RYHMÄ-2
Nightdream Tico Torres JUN EXC 2, CQ, RESERV-CAC, BEST MALE 4 – JUN ERI 2, SA, VARA-SERTTI, PARAS UROS 4
29.05.2014 TAMPERE, FINNISH BASSET CLUB SPECIALITY
pbgv judge: Marko Lepasaar, Estonia
BIS-judge: Marko Lepasaar
BIS-JUNIOR judge: Siret Lepasaar, Estonia
Nightdream Ricky Martin CH EXC 1, CQ, BEST MALE, BOB => BIS-3 - VAL ERI 1, SA, PARAS UROS, ROP => BIS-3
Nightdream Mario Del Monaco CH EXC 3, CQ, BEST MALE 4 – VAL ERI 3, SA, PARAS UROS 4
Nightdream Bruno Banani, JUN ERI 1, CQ, CAC => BIS-2 JUNIOR - JUN ERI 1, SA, SERTTI => BIS-2 JUNIORI
Curd Graf Von Schwerin VET EXC – VET ERI
Nightdream Tico Torres ROP-PUPPY HP => BIS-4 PUPPY – ROP PENTU KP => BIS-4 PENTU
Nightdream Isidore Ducasse CH EXC 1, CQ, BEST BITCH, BOS – VAL ERI 1, SA, PARAS NARTTU, VSP
Nightdream Evita Peron JUN EXC 1, CQ, CAC, BEST BITCH 4 – JUN ERI 1, SA, SERTTI, PARAS NARTTU 4
Nightdream Penelope Cruz CH EXC – VAL ERI
Nightdream Breeder Class HP 1, BIS-4 BREEDER – KASVATTAJALUOKKA KP 1, BIS-4 KASVATTAJALUOKKA
PROGENY GROUP Nightdream Isidore Ducasse HP 1 => BIS-2 PROGENY JÄLKELÄISLUOKKA Nighdream Isidore Ducasse KP 1 => BIS-2
Nightdream Bruno Banani BIS-2 JUNIOR - BIS-2 JUNIORI
24.05.2014 JÄRVENPÄÄ, ALL breed show
pbgv judge: Kurt Nilsson, Sweden
group judge: Aila Lehmussaari, Finland
BIS-judge: Annukka Paloheimo, Finlan
d
Nightdream Ricky Martin CH EXC 1, CQ, BEST MALE, BOB => GROUP WINNER => BIS-2 - VAL ERI 1, SA, PARAS UROS, ROP => RYHMÄVOITTAJA => BIS-2
18.05.2014 JOENSUU, All breed show
pbgv judge: Ivana Bakal, Croatia
group judge: Reino Korpela, Finland
Nightdream Ricky Martin CH EXC 1, CQ, BEST MALE, BOB => GROUP-2 - VAL ERI 1, SA, PARAS UROS, ROP => RYHMÄ-2
17.05.2014 JOENSUU, INT All breed show
pbgv judge: Mats Jonsson, Sweden
Nightdream Ricky Martin CH EXC 1, CQ, BEST MALE, BOB – VAL ERI 1, SA, PARAS UROS, ROP
17.05.2014 RAUMA, All breed show
pbgv judge: Antonio Di Lorenzo
Nightdream Mario Del Monaco CH EXC 1, CQ, BEST MALE 2 – VAL ERI 1, SA, PARAS UROS 2
Nightdream Isidore Ducasse

CH EXC 1, CQ, BEST BITCH,
BOS – VAL ERI 1, SA, PARAS NARTTU, VSP
Nightdream Gabriella Ferri CH EXC 2, CQ, BEST BITCH 2 - VAL ERI 2, SA, PARAS NARTTU 2
10.05.2014 HELSINKI INT ROYAL CANIN All breed show
pbgv & group judge: Claudio De Giuliano
BIS judge: Angel Garach Domech, Spain
Nightdream Ricky Martin CH EXC 1, CQ, BEST MALE, CACIB, BOB => GROUP WINNER => BIS-2 - VAL ERI 1, SA, PARAS UROS, CACIB, ROP => RYHMÄVOITTAJA => BIS-2
Nightdream Mario Del Monaco OPEN EXC 1, CQ, CAC => FI CH, BEST MALE 3, RESERV-CACIB => CACIB – AVO ERI 1 , SA, SERTTI => FI MVA, VARA-CACIB=>CACIB, PARAS UROS 3
Nightdream Gabriella Ferri OPEN EXC 1, CQ, CAC => FI CH, CACIB, BEST BITCH, BOS - AVO ERI 1, SA, SERTTI => FI MVA, PARAS NARTTU, CACIB, VSP
Nightdream Iisdore Ducasse CH EXC 1, CQ, BEST BITCH 2 – VAL ERI 1, SA, PARAS NARTTU 2
Nightdream Breeder Class HP 1 – Kasvattajaluokka KP 1
03.05.2014 TAMPERE, INT All Breed Show
pbgv judge: Sigrid Jarmer, Österreich
Nightdream Ricky Martin CH EXC 1, CQ, BEST MALE, CACIB, BOB – VAL ERI 1, SA, PARAS UROS, CACIB, ROP
Nightdream Bruno Banani JUN ERI 1, CQ, CAC, BEST MALE 2 – JUN ERI 1, SA, SERTTI, PARAS UROS 2
Nightdream Isidore Ducasse CH EXC 1, CQ, BEST BITCH, CACIB, BOS – VALIO ERI 1, SA, PARAS NARTTU, CACIB, VSP
Nightdream Evita Peron JUN EXC1 – JUN ERI 1
Nightdream Breeder Class HP 1 – Kasvattajaluokka KP 1
26.04.2014 VAASA, INT All Breed Show
pbgv judge: Aila Lehmussaari, Finland
group judge: Leni Finne, Finland
BIS-judge: Anca Giura, Romania
Nightdream Ricky Martin CH EXC 1, CQ, BEST MALE, CACIB, BOB => GROUP WINNER => BIS-2 - VAL ERI 1, SA, PARAS UROS, CACIB, ROP => RYHMÄVOITTAJA => BIS-2
Nightdream Bruno Banani JUN EXC 1 – JUN ERI 1
Nightdream Isidore Ducasse CH EXC 1, CQ, BEST BITCH, CACIB, BOS – VAL ERI 1, SA, PARAS NARTTU, CACIB, VSP
Nightdream Evita Peron JUN VG 1 – JUN EH 1
25.04.2014 LAHTI, INT All Breed Show
pbgv / group judge: Paavo Mattila
Nightdream Ricky Martin CH EXC 1, CQ,BEST MALE, ACIB, BOB => GROUP 2 – VAL ERI 1, SA, PARAS UROS, CACIB, ROP => RYP-2
Nightdream Isidore Ducasse CH EXC 2, CQ, BEST BITCH 2, RESERV-CACIB _ VAL ERI 2, SA, PARAS NARTTU 2, VARA-CACIB
Nightdream Gabriella Ferri OPEN EXC 1, CQ, CAC, BEST BITCH 3 – AVO ERI 1, SA, SERTTI, PARAS NARTTU 3
19.04.2014 IMATRA, INT All breed show
pbgv judge: Anatoli Zhuk, Russia
group judge: Leni Finne, Finland
Nightdream Ricky Martin CH EXC 1, CQ, BEST MALE, CACIB, BOB => GROUP WINNER – VAL ERI 1, SA, PARAS UROS, CACIB, ROP => RYHMÄVOITTAJA
22.02.2014 JYVÄSKYLÄ, Int show
pbgv judge: Gavin Robertson, Great Britain
group judge: Marja Talvitie, Finland
BIS-Judge: Johan Juslin, Finland

Nightdream Ricky Martin CH EXC 1, BEST MALE, CQ, CACIB, BOB => GROUP WINNER => BIS-3 VAL ERI 1, SA, PARAS UROS, CACIB, ROP => RYHMÄ VOITTAJA => BIS-3
22.02.2014 TURKU, Int show
pbgv judge: John Walsh, Ireland
Nightdream Ricky Martin CH EXC 2, CQ, BEST MALE 2, R-CACIB VAL ERI2, SA, PARAS UROS 2, VARA-CACIB
11.01.2014 NURNBERG, GERMANY, Int show
pbgv-group judges: Mr Eberhardt, Dr Beyersdorf
Nightdream Mario Lopez (Mirepoix´s La Fraie Affaire-Nightdream Paloma Picasso) CAC, CACIB, BOB => GROUP WINNER – SERTTI, CACIB, ROP => RYHMÄ VOITTAJA
***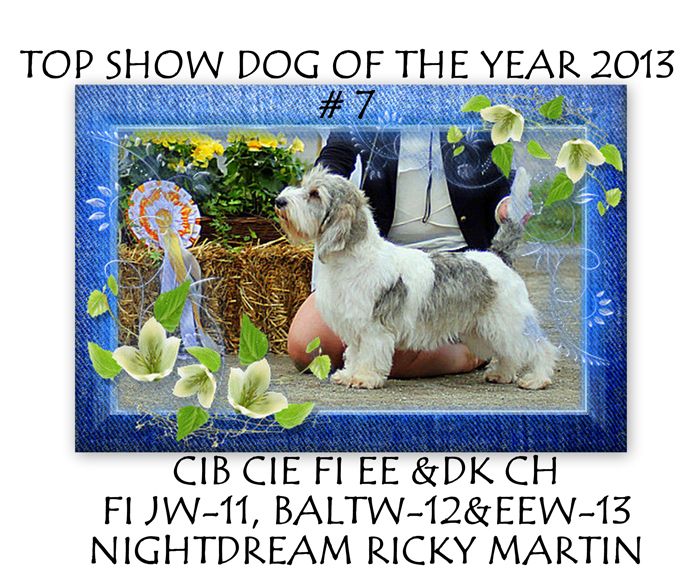 TOP PBGV 2013 by Finnish Basset Club
Males
1. CIE,CIB & NORDIC CH, FI, DK, EE, SE CH, FI JW-11, BALTW-12, EEW-13,
NORDIC W-13, HKIW-13, FIW-13 Nightdream Ricky Martin 99p
2. FI CH, FIJW-12, HKIJW-12 Nightdream Salvatore Ferragamo 37p
8. CIB & FI CH, EE CH, HKIW-11 Curd Graf Von Schwerin 20p

Bitches
2.CIB &FI CH & EE CH & DK CH & EEW-13 Nightdream Jennifer Lopez 45p
5. FI CH & EE CH & EEW-12 & BALTW-12 Nightdream Isidore Ducasse 26p
6. FI CH Nightdream Penelope Cruz 21p


Best Breeder
1. Nightdream Kennel 120p